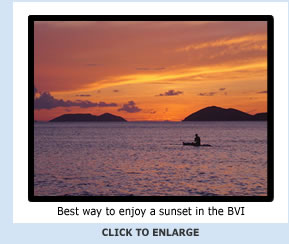 The BVI is paddleboarder heaven. The temperature of the translucent aquamarine sea seldom falls below eighty degrees F.. The islands are set so close together they invite amphibious island hopping. Instead of being stacked north to south like the rest of the Caribbean island chain—and thus vulnerable to the easterly trade winds—the BVI extends east to west. There is almost always a lee for weary paddlers.
Unless your paddleboard folds in half, it probably can't be put on a plane. You can truck it overland, then ship via Tropical Shipping from Miami to Tortola It may take a while for your board to arrive in the BVI. West Indian cargo vessels seem to specialize in procrastination. Tape proof of purchase for your board to the OUTSIDE of your shipping crate. Be on the dock when your board arrives. Caribbean forklifts behave like mad bulls: They won't hesitate to gore your paddleboard without apology. Forklifts are not interested in insurance. Save your crate, if anything remains of it. You will need it to ship back to Miami.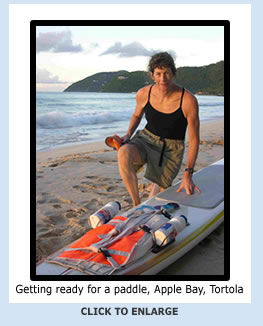 To help you plot your paddling trip though the BVI, get a nautical chart at a chandlery in Road Town, capital of the BVI. The Tourist Board, if in a good mood, can offer hints about where to stay.
Before starting your tour, check your equipment. You should be able to dryly carry a change of clothes, necessary prescriptions, cosmetics, your passport, credit card, and a little cash. Helpful—if not essential—are a VHF radio, cell phone, compass, handheld GPS and EPIRB. You never know when the wind and current will have its way with you.
If you choose to touch all BV Islands, as I did in '99 (a trip of over 200 miles), you should start paddling in Anegada, the north most BV Island. By paddling west you will take advantage of the consistent east wind Theoretically, you can bring your board by ferry from Tortola to Virgin Gorda, and then go on to Anegada. But ferry schedules from Virgin Gorda to Anegada are unobvious. Sometimes the ferries don't exist.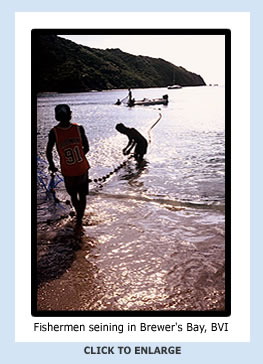 There are fifteen open ocean miles between Anegada and your first destination to the west, Virgin Gorda. Strong current and large waves often rule the shallow channel. Watch you don't run aground on coral heads. Be sure you are a strong ocean paddler before you start out.
When you reach Leverick Bay on VG's east end, you can take time to visit out islands. Close by is Necker Island, owned by billionaire Richard Branson. He will gladly rent you his island for $15,000/day. Best to touch Necker Island and paddle away before annoying Branson's security system.
Many idyllic islets hug VG's north coast: George Dog, Great Dog, West Dog, and Cockroach. Don't get hypnotized by the beauty of these pure specks of coral set in their vault of Caribbean blue. You don't want to get run over by one of the ferries that dash between Tortola and VG.
On your way down VG's north coast, visit The Baths: sparkling tide pools full of tourists and guarded by giant granite boulders. From VG's east end, you cross the sapphire half-mile channel between VG and Fallen Jerusalem, a desert isle where naturally pink granite boulders contrast with silver sand.
From Fallen Jerusalem, skim the north rim of the Sir Francis Drake channel (the ribbon of water between you and Tortola). You will pass granite boulders strung like beads on a thread of shallow turquoise sea. Then you will see, about a mile equidistant from one another, Round Rock, Salt Cay, Dead Chest, Peter and Norman Islands. They are small, but imposing due to tall cliffs. Turbulence and swell between islands in a strong wind or change of tide can be hazardous.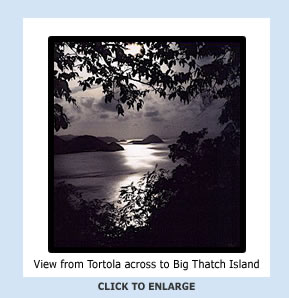 Stay on Peter Island for $1000/night or paddle south to Norman Island. You can sleep on the floor of the Willy T, a restaurant-vessel permanently anchored offshore. Naked revelers who step over you on their way to the Willy T's top deck where they plunge screaming into the sea will ruin your sleep. Women get a Willy T-shirt for a naked leap. Don't count on getting a t-shirt, ladies.
From the Willy T, paddle eight miles across the Drake Channel to reach the west end of Tortola. Watch the boat traffic in the Drake Channel! When you reach Tortola, stay at the Jolly Roger Inn and listen to Reggae or local music called Fungi. Big and Little Thatch islands are just a half mile from the Jolly Roger. Little Thatch is gaudily occupied by an expensive resort. Big Thatch's only inhabitants are thorny cactus, beaches free of human footprints and wild cattle; the cattle can be aggressive.
To reach the extreme western BVI, cross the four-mile channel between Tortola and Jost Van Dyke (named after a pirate). Again, watch for boat traffic! Stay in White Bay at Ivan Chinnery's Stress Free Bar and Campground. Accommodations are draughty. If you are able to sleep on the cots, you may have been an Indian fakir who enjoyed sleeping on a bed of nails in a previous lifetime.
Jost's neighbors to the west, Big and Little Tobago, (not to be confused with Trinidad & Tobago, a Caribbean country south of the BVI), are sheer dark rocks that trail skirts of white foam into the blue Atlantic to the north. To reach the Tobagos, paddle west from Jost. Though not wide, the channels between Jost Van Dyke and the Tobagos can have big water and high winds. It is a twelve-mile round trip from Ivan's campground to Big Tobago. Six miles are often paddled upwind in twenty knot headwinds.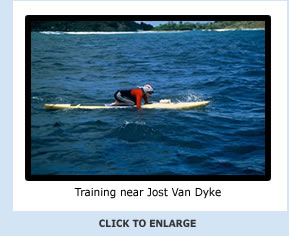 Sandy Spit, Little Jost Van Dyke and Green Cay are just a few miles northeast of Jost. Sandy Spit, a rim of white sand surrounded by a bustling navy of anchored pleasure vessels, is obvious from a distance. Paddle north from the Spit and tag Little Jost Van Dyke, a haven for little more than wild birds and feral goats. Nearby Green Cay, once a Rockefeller protectorate is a nature preserve. But it can be hard these days, amid the footprints and bodies of other tourists, to perceive the form of the natural world.
Now you must spend time on Tortola, capital of the BVI. Paddle four miles south (difficult in a strong northeast wind) across the channel from Green Cay. You will arrive at a tourist-friendly spot called Apple Bay (my home) that boasts the BVI's most venerable and comfortable accommodation, Sebastian's Hotel. Or paddle four miles from Apple Bay up Tortola's north coast and stay at Brewer's Bay Campground. The campground is poorly maintained. You might find yourself counting flies instead of enjoying spectacular Brewer's Bay.
An eight-mile paddle north, usually upwind and rough, from Brewer's Bay along Tortola's north coast takes you past silvery beaches like Lorimer Bay and Lava Flow Beach (you can't access the north beaches in a ground swell) to Guana Island. Like Necker, Guana is a nature preserve, a darling of the elite, and inhospitable to the non well heeled. If you land on Guana you will be asked for your credentials and usually invited to leave.
More welcoming to the tattered adventurer is Beef Island--where you landed when you flew in to the BVI. Beef Island—a half-mile east of Guana and near the airport. You can stay at the friendly Beef Island Guest House. If you are hungry and crave e-mail, you will find an Internet café that serves delicious food. Base yourself on Beef Island and tour the exotic Camanoe islands to the northeast; they have humorously named places like Throw Way Wife Bay and Pull an' be Damn Point.
As you paddle around the east end of Beef Island, you will find yourself in the home stretch of your BVI tour. It is only a hop, skip…and a paddle (ten miles) along Tortola's south coast to Nanny Cay, a popular hub for mariners. This is a good spot for you to pull your paddleboard out of the water. Amid avid—and often drunk—listeners, you can boast about paddling the BVI and figure out what to do with your board before flying home.
If you leave your board on Tortola, who knows, maybe I'll buy it.