If beauty had a backbone, the Exuma Cays in the Bahamas, would be it. Linked like vertebrae, the pristine limestone Exuma islands stretch one hundred fifty miles from Great Exuma almost to the capital of the Bahamas, Nassau. The Exumas are composed of hundreds of islands and support two obvious ecosystems: The Exuma Banks, off the islands' west coast, are an enormous, calm, chartreuse shallows loved by minnows, stingrays, barracudas, and colorful reef fish. Exuma Sound, to the east, is a deep ocean trench full of high winds, forceful current, steep waves, and big predators.
To reach the Exumas, go to Nassau. From here, hop a small plane to George Town on Great Exuma. Ship your board from Miami to Nassau with Miami Shipping Company. From Nassau, bring your board with you on a mail boat, like the Grand Master, to George Town.
Bring documents to George Town stating that your board has passed Customs in Nassau. If not, your board will be impounded on Exuma until the documents can be faxed from Nassau. Given the frequent failure of electricity on Exuma, the process could take days. As happened to me, your board will be trucked to a lot in central Exuma. There it will incinerate in the hundred-degree heat, delaminate, and be much harder to paddle.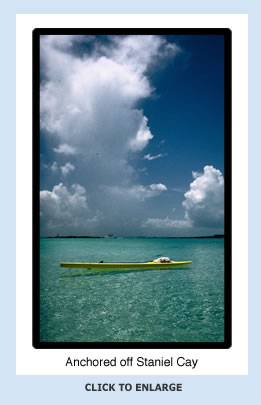 In George Town, stay at the Peace and Plenty Hotel. Fresh fish, fruit and vegetables scarce in the Exumas, the "plenty" refers to Kalik beer and deep-fried cracked conch. From the Peace and Plenty, it's a short hike to the Tourist Board. They can help you plot overnight stops along your route, and will tell you who to call on you VHF radio or cell phone when you are being circled by sharks.
Paddle north up Great Exuma's east coast. You will be sheltered from the infamous, Bahamas east wind by Stocking Island. It's twenty miles from George Town to Rolleville where you can replenish calories and sleep. Rokers Point, about ten miles north of Georgetown, is a crucible. Here, you are at the mercy of the open Atlantic. Breaking waves can wreck you on the coral. If you reach Rolleville, you won't find lodging, but a member of the Rolle family, who are a well-established, well-heeled presence in the Exumas, will let you pay them for food and shelter.
From Rolleville, proceed to Barreterre, a square island a mile from the north tip of Exuma. Barreterre strands at low tide in mud and sand-shallows. You will be well received on Barreterre and perhaps directed to the Reverend A.A Mackenzie (if he hasn't died). He takes in travelers and will let you overnight for a steep fee. Perhaps he will cut you a Barrie Stick, a two-foot length of pole carried by locals in their boats to ward off barracudas. It's bad luck to lose your Barrie Stick.
After your night on the Reverend's bedsprings, cross the narrow, powder-blue, shallow channel west to the Exumas that you will see sailing north, end-to-end, like stone Spanish galleons. Six miles from Barreterre (if, you consult the waterproof charts and the handheld GPS that, hopefully, you brought with you) you will find Lee Stocking Island, Lee Stocking harbors a school for marine biologists. Young students will celebrate you for being the peculiar marine creature that you are.
From Lee Stocking, count, like beads in a rosary of beauty, islands like Bock Cay, Prime Cay, Darby Island and Ruddercut Cay. You may think things couldn't get more beautiful. But they do. As you go north, the islands seem ever more pure and remote; the ocean grows increasingly clear and more emerald and aquamarine. The sky distills increasingly into pure sapphire. Don't get hypnotized. Stay clear of the cuts between islands. Tidal current in the cuts flows at eight knots. You can be vacuumed from the placid Exuma Banks into the open ocean in Exuma Sound. The only way to return to the lee side of the islands is to wait hours until the tide reverses.
Six or so miles past Lee Stocking is Musha Cay. When I stayed there, the island was being transformed into a very exclusive resort, the kind of crash pad that entertains George W and Halle Berry. In my case, the Tourist Board contacted a project supervisor. I was allowed to overnight in the employees' dormitory. This would not be an option for you, so unless you're very rich, or Tom Cruise, continue on a few miles north.
After Cave Cay and Farmer's Cay, comes a speck called Little Farmer's Cay. Here, you will be mobbed by well wishers and inexpensively loved to death. Locals on Little Farmer's Cay can't wait to stuff you with—guess what! —fried conch, and they practically dismember you in an attempt to be the first to offer you free lodging. Enjoy the hospitality!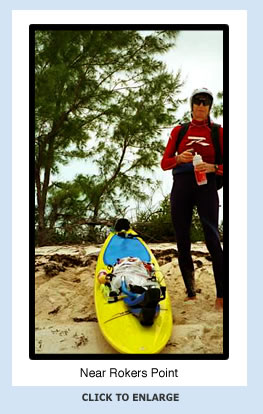 Ten-mile-long Great Guana Cay waits for you just past Little Farmers. By now you are well acquainted with Exumian hazards. The barracudas that patrol next to your board like silver-gray submarines, and the sharks—bulls, hammerheads, and tigers—don't bother you. But, let me warn you, thunderstorms are highly aggressive in the Exumas. Boaters are struck by lightning. Take cover in an electrical storm. The forefront of a storm packs the highest voltage. Hide in a shoreline cave, of which there are many on Guana, OUT of the water. Do the lightning crouch: Squat in low scrub on your heels with your elbows low and hands cupped to your ears Be careful, though, that the bushes you hide in are not poisonwood. This attractive bush, with its silver-dollar-size leaves, has sap that burns like acid. When you use nature's latrine, make sure not to apply poisonwood leaves to your bum.
At the north end of Guana Cay, is the town of Black Point, a good overnight stop. Black Point is highly populated. Its families produce legions of kids who become fishermen and subsistence livers. People are friendly, but, while in Black Point, you may learn that the difference between being solicited and robbed is negligible. Watch your things.
Staniel Cay, the tourist trap of the Exumas, is your next stop. Accessible by small plane and a stopover for ferries enroute between Exuma and Nassau, tourists who want to taste local life, flock to Staniel Cay. They are disappointed, as will you be. Staniel Cay has attitude. When patronizing local businesses, you may find yourself being snapped at, overcharged and only approved of if you show a tendency to immediately leave the island.
After reeling in a few more islands, like Fowl Cay Sampson Cay, and Overyonder Cay, you will relax on Compass Cay. This unspoiled islet has a long trackless beach, a small marina, and clean rooms for rent. A flock of odd sea gypsies linger around Compass Cay in decrepit watercraft for months, even years, seemingly for the sole purpose of entertaining you. Stock up on food on Compass. It is a long way to your next stopover—twenty miles—to Warderick Wells.
Warderick Wells is a national park. Park Wardens, armed guards who oust fish and lobster poachers caught within Park boundaries at gunpoint, live in houses visible on a hilltop and known as "Park Headquarters". Whatever shape you're in when you land on Warderick Wells, you will be given a mop, broom, pail, scrub brush, or wood-cutting shears. Unannounced visitors are commandeered as volunteer workers in the park. In exchange for a bunk, a few boiled eggs, rice and an occasional fish, you will soon be clearing brush, painting arrows on rocks so tourists won't get lost. You may enjoy this so much you forget to leave.
Between Warderick Wells and Cistern Cay, is the biggest open channel in the Exumas, the Wide Opening. It is only eight miles wide but, as the site of gruesome "big fish stories", full of shallow coral and open to Atlantic weather systems, it commands respect. If, like me, you earned the love of the Warderick Wells' Park Warden, you may be escorted across the Wide Opening by the spiffy Park Warden powerboat. Cistern Cay is within park boundaries, so the warden may bring his poacher-bouncer, a muscular six-foot- Bahamian who wears strings of machine gun bullets across his bare chest. In such company, you will feel protected and threatened as you paddle across the Wide Opening.
At Cistern Cay, you will lose your Park Warden escort and his bodyguard. They were building a resort on Cistern Cay when I passed by, so I went on north to Hawksbill Cay. Hawksbill is unremarkable, except that it supports a colony of rats. If you picnic on the island, you will be hungrily watched from the poisonwood trees. Don't fall asleep.
North from Hawksbill is Shroud Cay, maybe the most special of Exuma islands. Shroud is divided into smaller islands by a network of emerald-clear, deep channels. Paddle up one of the channels. Enjoy the solitude and silence and silver ripples that travel beneath you along the pure white sand whenever you take an arm stroke. The quicksilver minnows, small barracudas and needle fish you find in the channel look like they are having so much fun you may want to join them.
Norman Cay, your overnight stop past Warderick Walls, was a rendezvous for drug runners. A wrecked plane used by the drug trade remains in the lagoon that takes up much of Norman's interior. The drug-running aviators are gone, but many of Norman's few residents still fly by the seat of their pants. Dale, the manager McDuffs, a resort on Norman Cay, flies his small plane in and out of Norman often. If you look handy and strong, Dale may have you washing and polishing his hotel in exchange for a bed. Dale's dog loves shoes. If you leave yours unattended, he will steal one. I say "one" because the dog is not into pairs. He will take one shoe and quickly move on to cause more divorce among other happily married shoes.
On leaving Norman Cay, your Exumas trip is almost over. Your next stop is Highburn Cay. Beyond, are Allens and Roberts Cays, but Highburn is really the Exumas last gasp. When your reach Highburn, you sense the bustle of the world beyond. Mega yachts nose in to the well-equipped dock. These sea hogs seldom travel down the Exumas. They float near Highburn Cay, drink, are convinced they've explored the Exumas, and then go back to Florida.
If you are a purist like me, you'll want to paddle the thirty-six mile channel between Highburn Cay and Nassau. Wait for an east wind—not hard in the Bahamas. Perhaps, since the seas kick up nastily in the shallow water between Highburn Cay and Nassau, you'll want an escort vessel to follow you. Natch, as a pure paddler, you never touch your escort vessel. But don't be too much of a purist! The Bahamian vessel you recruit may break down and have to anchor mid-channel. In this case, you must come aboard, and drink and joke with the captain until he fixes the motor. Who knows, you may have to take your captain to Nassau on your paddleboard.
Remember, keep your Barrie Stick with your until you leave the Bahamas!
**My description of the Exumas is purely mine. Others who tour the Exumas will meet different events and people. However, I feel sure that any visitor to the Exumas will use them as a benchmark for pristine marine beauty. They may be the most beautiful islands in the world. Preserve them!
To learn about the Exumas in MUCH greater detail, I recommend The Exuma Guide by Stephen Pavlidis, and The Explorer Chartbook of the Exumas by Monty and Sara Lewis and Kate Fears.