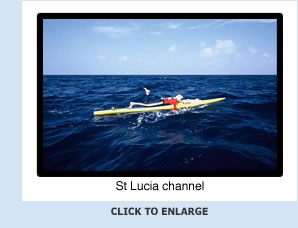 The islands of St. Lucia and Martinique belong to the Windward Islands in the Eastern Caribbean. Guadeloupe and Dominica are the tail end of the southern Leeward Islands. These four big islands form the eastern boundary of the Caribbean Sea, and the west edge of the Atlantic Ocean. For many years, St. Lucia and Dominica were juggled between the French and the English. Now, they are self-governing. Martinique and Guadeloupe remain French territories. Nine tenths of the Windwards' and Leewards' population are the descendents of former African slaves.
The three channels between St. Lucia, Martinique, Dominica and Guadeloupe challenge mariners with strong currents and waves born in the big fetches of the Caribbean and the Atlantic. The channels between the islands are all over twenty miles wide. Crossing any one of them is a worthy adventure for a paddleboarder. Unless you are an extreme adventurer (which you may be) get a boat to follow you. In the interests of purist paddling, and "legal" channel crossing, I suggest you not touch your escort boat or a person during a feat—though you could receive food and water on the end of a boat hook.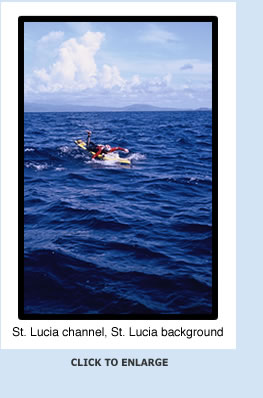 Decide if channel bagging is your goal (stage paddler), or if you want to explore island coastlines as well as paddle the channels in between (through paddler). A stage paddler can carry a lot of gear on chase boats and island conveyances, and can stash the board on an island until ready for the next stage. Through paddlers must be prepared to carry everything onboard.
From St. Lucia to Guadeloupe, the Caribbean island chain curves east as it goes north. It makes sense to paddle north from St Lucia rather than south from Guadeloupe. You will be helped the predominantly east wind and the eastbound equatorial current. Despite that it is peak hurricane season, late summer and early autumn provide days of calm weather in the channels. At this time you will be more likely to find a favorable southeast wind.
Ship your board from Miami to St. Lucia via Tropical Shipping. To find an escort vessel for the St. Lucia channel, check Rodney Bay Marina. One of the yacht management companies there may sponsor you a chase boat, as they did me. If you need inexpensive (and charming) lodging near Rodney Bay, try La Panache. Paddling couples who want luxury should try Sandals. (They sponsored me; I may have been their only single guest.)
Start paddling the 22-mile St. Lucia channel from Anse Galet, a beach east of Pointe du Cap on St. Lu's north end. To give you a margin for error, start at around 2:30 a.m.. Rehearse with your escort vessel where you will meet when you start paddling from St. Lucia. To make me visible to my escort boat, I attach chemical light sticks to the bow and stern of my board. Confer with a good meteorologist. Do not attempt the St. Lucia channel in winds other than east or southeast, or over 15 knots. Current and seas will be prohibitive.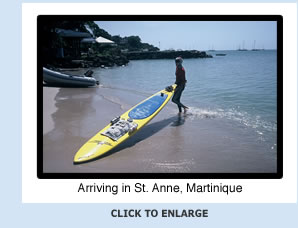 On a clear morning you can see the lights of Fort-de-France, the capital of Martinique. Your destination is St. Anne, a town a couple of miles east of the southern tip of Martinique. Watch your drift! The westbound current in the St. Lucia channel flows at between 1.5 to 2 knots. Sometimes you must paddle directly east, instead of north toward Martinique, to reach St. Anne.
In Martinique, clear in with Customs and Immigration with your escort vessel in Le Marin, near St. Anne. Guesthouses abound in St. Anne. Try La Dunette. Dust off your French as you order escargots and crepes au chocolat. Martiniqueans love it if you try to speak their language. Learn a little French before you arrive in Martinique.
After R&R in St. Anne, a through paddler will head northwest up the coast to Trois-Islets, a collection of three bays and peninsulas opposite Martinique's capital, Fort-de-France. A good place to stay in Trois-Ilets is Auberge de l'Anse Mitan. Through paddlers will cross the three-mile Baie de Fort-de-France to the capital city. There, maybe you can meet two people who helped me greatly: Jacques Sicot and Jacques Bajal. Sicot is a champion swimmer. He swam from Martinique to St. Lucia and back again. He swam non-stop from Martinique to Guadeloup, and circumnavigated, swimming, his native Martinique.. His friend Jacques Bajal works in the Cruise Department of the Tourist Board in Fort-de-France. Bajal is eager to help an adventurer.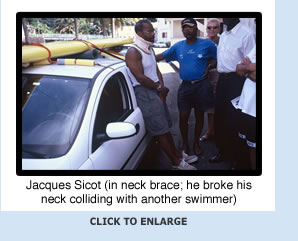 You could pre-arrange a chase boat, as I did, with a Martiniquan official, like the Mayor of Shoelcher. (Shoelcher is Martinique's political headquarters.) However, Martinique is a committed French bureaucracy, in love with itself, in no hurry to do anything and good at buck passing. You will perhaps write many letters from your home in French, and receive many in return—hopefully a proposal of sponsorship stamped by the Mayor of Shoelcher himself. But even if you persuade a Martiniquean higher-up to sponsor you, Caribbean philosophy (now-you-see-it-now-you-don't) may prevail: When you get to Martinique, the official may deny he ever corresponded with you. It happened to me
If you hire an escort vessel in Martinique, prepare to pay a lot. A cheaper option is to hire from Dominica. Though a Dominican boat will have to cross the Martinique channel twice, it will be less expensive. Try dive and whale-watching centers on Dominica, like Dive Dominica or Anchorage Whale Watch and Dive Center.
Those paddling Martinique's lee coast from St. Anne to Le Precheur, will do so in the shadow of Mt. Pelee, whose violent 1902 eruption caused the deaths of 30,000 inhabitants in the town of St. Pierre. On your way to St. Pierre, which was minimally re-built, you can visit rural towns like Case-Pilote, Bellefontaine and Le Carbet. Don't decide to stay in a Hotel de Ville. I arrived at such a "hotel" with my gear and learned that a Hotel de Ville is a meeting place for politicians, not a refuge for tourists.
Start across the 25-mile Martinique channel from Grand-Riviere, a fishing village on the north end of Martinique. If you have befriended the Jacques, they may see you off at 3:00 a.m. from the little beach behind the breakwater, where fisherman have pulled their brightly painted dories up on the sand for the night. Jacques Sicot, a hero on Martinique, may shout encouragement as you jump on your board: "De bon courage!" I'll never forget it.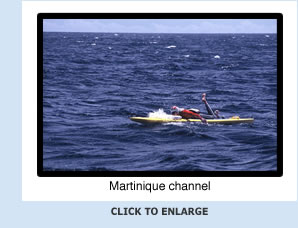 Aim for Scott's Head peninsula at the south end of Dominica. You may find the Martinique channel easier than the St. Lucia channel. If you paddle on a southeast wind, you ride wind and current directly in to Scott's Head. Stay at Herche's Place (a small hotel) or with fishermen. Subsistence farming and fishing is the norm on Dominica. Don't forget to clear in with Customs and Immigration at the ferry dock in Roseau, Dominica's capital. Ride the bus from Scott's Head.
Dominica is nature's castle. Where you paddle in at Scott's Head, the water is 2000 ft. deep, the remnants of an old volcanic caldera. The Boiling Lake, a phenom that honors its name, is a good day hike with a guide. Paddling the lee coast from Scott's Head to Portsmouth, you pass volcanic vents that empty gas like champagne bubbles from porous underwater stones on the shoreline. Your skyline is rugged mountains, waterfalls and unspoiled forest.
Stay in small Old World Caribbean towns like Layou and Coulibistri. Some towns, like Massacre, suggest violence. Dominicans are friendly, but with your fancy gear and obviously a lot of time to spend adventuring, you appear rich and may prompt lightness of fingers. Don't leave gear where you can't watch it.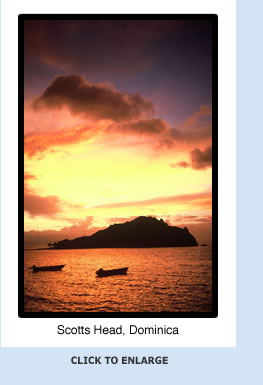 It will add six miles, but I suggest you start crossing the 20-mile Dominica channel from Portsmouth on Dominica's northeast coast. If you paddle from the north tip of Dominica, you will struggle with huge surf and shallow reefs. In Portsmouth, stay at Blue Bay on the beach. The sea is calm in Portsmouth, but it is far from Dominica's dive and whale-watching centers. Getting a boat to escort you in the Dominica channel could be hard. The fishing boats that operate out of Dominica's wave-beaten north coast (Calibishi) are a wild breed. Expecting one to appear at 3:00 a.m. in Portsmouth, with a viable boat, is expecting a lot--though you'll get grinning volunteers.
More reliable options can be found on The Saintes (Iles des Saintes). By chance, I reached the ear of a luminous director of tourism on Les Saintes. When I explained my mission--paddling the Dominica channel--the tour director whooped, "Ah, d'accord, vous voulez faire une traversee!" (You want to make a crossing!), as if 20-mile channel crossings were the norm for fifty-eight year old women on paddleboards. I was sponsored a chase boat by a dive center on Les Saintes. The boat arrived on time on the right day and did a great job escorting me in the channel.
Expect calm seas and starlit vistas of tall palm trees and jungly mountains on your way from Portsmouth to the north end of Dominica. If it is light when you reach land's end, you will see Les Saintes as dark blobs on the horizon. The Saintes are two main islands, Terre-de-Bas and Terre-de-Haut. Your destination is Bourg des Saintes, a village on the north shore of Terre-de-Haut. Due to smaller islands—La Cloche and Grand Ilet—it is hard to distinguish Terre-de-Haut from its surroundings. You want to reach the center of what you can see.
Despite a good weather report, conditions can deteriorate rapidly in the Dominica channel. An east wind can interact with west bound current (at change of tide) to whip up pyramidal steep waves that make it hard for you to stay on your paddleboard. Head east above your destination enough to make sure you don't miss The Saintes as you are swept eastward by waves and current toward Central America.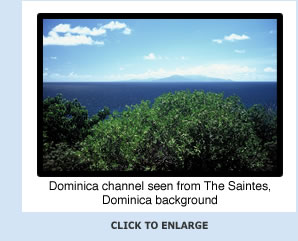 Thread your way through the Passe des Dames (channel of the Ladies) between La Cloche and Grand Ilet. This will set you up to paddle the Passe du Sud between Terre-de-Bas and Terre-de-Haut, your destination. Two miles south of Grand Ilet and La Cloche, the current gets serious. I barely made it in to Passe des Dames and took two hours to paddle two miles.
In the Passe du Sud, fishermen singing French songs may escort you in to Bourg des Saintes. On reaching Bourg des Saintes, the warmth and endearment of these little French islands kindle your heart. Prepare to eat French bread and food so good it tastes ordered direct from La Metropole (Paris). Stay at Auberge des Petits Saintes among memorabilia like rusted cannonballs and big-breasted figureheads that might once have adorned the bows of ships.
You've crossed the Dominica channel! Only six miles separate you from the Guadeloupe "mainland" that swells in misted emerald hills not so far away. It is a short paddle from Les Saintes to Guadeloupe. (Aim for Trois Rivieres, across from Terre-de-Haut; stay at Le Joyeux Hotel and restaurant.) Remember that the Canal des Saintes, between Les Saintes and Guadeloupe, is the shipping lane for international cargo vessels coming in to Point-a-Pitre, the capital of Guadeloupe. Plus, the Canal des Saintes is full of speedboats and ferries.
There is no customs office on Les Saintes; the nearest place where you can clear in to Guadeloupe is at Point-a-Pitre, Guadeloupe's capital, a day's ferry trip away. Against my better judgment, I say, Keep a low profile and leave Guadeloupe soon. Other than that, don't worry too much.
If you must return to your starting point in St. Lucia, you can take your board on l'Express, the large, fast French-styled ferry that connects Les Saintes to Guadeloupe, Dominica, Martinique and St. Lucia.



**N.B. The places and people I have introduced may no longer exist when you do your paddle. In the Caribbean, objects, people and events vanish and reappear with amazing speed. In the Caribbean, reality is the biggest myth around. Or, as someone born long before me quipped, "Reality is only the most popular fantasy." In the Caribbean, reality is unpopular even as a fantasy.
** For much more detailed info about the places I hint at, try reading Chris Doyle's cruising guides to the Windward and Leeward Islands.