TOUR 7
ROUTE MAP
VIEW
TOUR 7
NEWS ARTICLE


VIEW
TOUR 7
NEWS ARTICLE


VIEW
TOUR 7
PUBLISHED ARTICLE


VIEW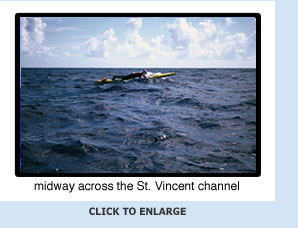 The 26-mile St. Vincent channel, between the Windward Caribbean islands of St. Lucia and St. Vincent, is not the widest channel in the Caribbean, but it may be the meanest. I describe it separately because in every way—in extremes of beauty, danger and challenge—this channel stands alone.
The St. Vincent channel has a mystique, a charisma that draws sailors and adventurers in the way that Everest attracts climbers, the north shore of Hawaii entices surfers, and the English Channel rivets swimmers. Challengers of the St. Vincent channel want to say, yes, they crossed it.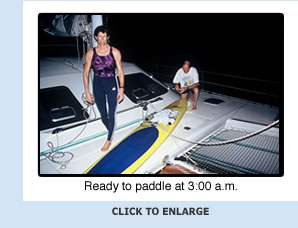 Yearly, the St. Vincent channel claims lives: weekend sailors, daredevils and drunks in small craft and sleek-muscled windsurfers—along with hard-bitten sailors with thousands of sea miles to their credit. The St. Vincent channel seems to concentrate and personalize ocean savagery and fickleness in the same way as a hurricane. It is a force that can be measured in wave height, wind speed, and tidal surge, but not in increments of awe and fear.
The waves in the St. Vincent channel are always bigger than waves in neighboring channels; the wind has a way of becoming the opposite of what is forecast. The current can flow at up to three knots. When I told athlete/adventurer friends, many of whom had crossed the channel on large sturdy boats, that I planned to paddleboard across the St. Vincent channel, they said," Don't."
Ship your board to either St. Lucia or St. Vincent. Follow my shipping instructions in trips 2 and 6. If it may influence your decision about whether to start paddling from St. Lucia or St. Vincent, let me say that St. Vincent is extremely primitive, and it may be hard to organize a chase boat from there.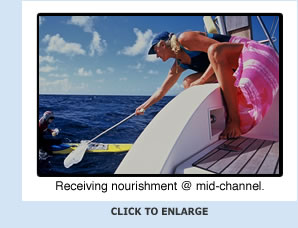 In the spring and summer, the wind blows predominantly east/southeast and, in winter, east/northeast. In the spring (April and May) and in the autumn (September through October) you can have flat calm days. The biggest adverse influence that you must factor in when you decide whether to start crossing the channel from the south end of St. Lucia or from the north end of St Vincent, is the current. There are tidal and equatorial currents. Tidal currents flow either east or west depending on whether the tide is entering or leaving the Caribbean Sea. The equatorial current is continuous and flows west/northwest. Both currents are subject to lunar influence and can hustle along at up to three knots, especially when the moon is full! It is wise, before you set a paddling date to observe lunar cycles. Island fishermen are accomplished meteorologists and can give you good advice. Seek them out!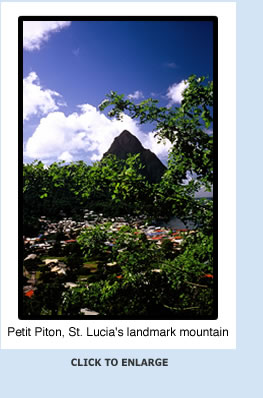 However you cross the St. Vincent channel (unless in a mega-yacht) you will be challenged as a physical being and wowed by the beauty and horror of it all. At mid-channel you sit in the cobalt-and-cream ocean gripped in the scenic and climatic crucibles of St. Vincent's tall, powder-blue volcano and the emerald mist that is St. Lucia--both fifteen miles away—and maybe the fear of noting how small you feel in the face of increasing wind, current and waves.
Your landing and take-off spots, whether they are on St. Lucia or St. Vincent, is something to consider. A town called Vieux Fort on the south end of St. Lucia is a logical jumping-off spot. It has a nice beach where you can launch. Fancy, the north most town on St. Vincent and your logical touchdown spot, can present problems. If there is any swell running, you won't be able to touch the rocky shore near Fancy, You must search for a sheltered cove—difficult if you've just paddled 26-plus miles!
Wherever you start from, do it early in the morning, 2:00 a.m. or so, to give yourself daylit margin for error when you reach the other side of the channel.
Here is an excerpt from one of my stories:
"Susan, you go backward," says Ulrich Meixner. He is a tall Austrian in his late forties. He has a hatchet face and the bloodshot eyes of the chronic sailor. Ulli captains the sturdy fifty-foot sailing catamaran named Daedalus that follows me in the St. Vincent channel. I had heard that this channel is the most dangerous in the Caribbean, so I opted for an escort boat. Ulrich's yacht management company, DSL Yachting on St. Lucia (along with six of his friends) eagerly supported my adventure. They sailed me twenty miles down from Gros Ilet on the north end of St. Lucia to where I would start paddling.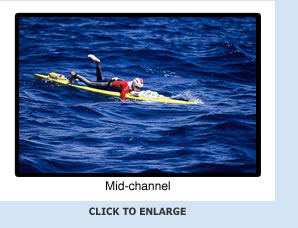 Scott Stripling, a meteorologist friend based in Puerto Rico, had predicted light northeast winds: perfect for me to paddle south from St. Lucia to St. Vincent. But, as I entered the St. Vincent channel on my paddleboard from a beach at the south end of St. Lucia at 3:30 a.m., in a circle of light from my chemical light sticks (green to the bow, red to the stern), I felt nervous. It was as if something powerful was there in the dark water beside me. I felt that this force would test me: If I passed the test I could cross the channel. If I flunked? A fish jumped out of the sea and collided with my jaw to show me that the ocean was boss.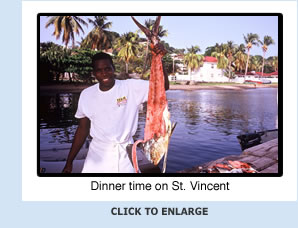 At mid-channel, I refueled with water and a sports bar brought to me in a dinghy launched from my support boat and handed to me by Agnes, a tall, blond, Belgian former competitive swimmer and one of my support crew, on the end of a boat hook. I felt my night-born superstitions vanish under the hot tropical sun. I paddled again toward St. Vincent confident that I would soon conquer this mightiest of channels. Suddenly, the wind switched southeast and strengthened to fifteen knots. The ocean buckled into heavy chop and steep waves. When took my bearings on Soufriere Hills, St. Vincent's tall, dormant volcano—gray and huge as a giant sleeping elephant in the distance—and saw it move to my left, I knew that I was being swept westward by current into the Caribbean Sea.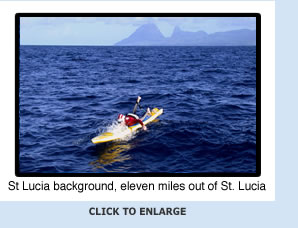 Ulrich buzzed over in the dinghy and shouted that I am caught in a three knot current and I drift backward toward St. Lucia. No way, he insists, can reach St. Vincent. He throws me a towrope. I like to imagine that he pulls the rope back just before I touch it. He knows as I do that if I accept help I forfeit a "legal" channel crossing. He goes back in mock defeat to the mother ship and I keep paddling. Later he visits me to say that I move forward at a mile an hour—with eleven more miles to go. "Can you paddle for eleven more hours?" I despair, realizing that a baby can crawl at a mile an hour. I resolve to paddle until I can paddle no more. I concentrate on taking the next stroke. Minutes and hours slip by as I exist in a fog of pain and determination. Time seems both short and endless, yet the looming bulk of St. Vincent looks increasingly defined. I can see the dark threatening shapes of rocks along the shore. The haze from local cooking fires winds into the air like escaping ghosts s. I smell the rich pungent odors of roasting meat and hear the swish and roar of breaking waves.

It grows dark but the lights of houses and cars on St. Vincent glimmer ever closer. I begin to think that I can get there. The last inches an d miles are not given to me easily. The headwind—never below twelve miles an hour—and the racing current never let up.
I was carried twelve extra miles out into the Caribbean Sea. I often went backward. In all, I paddled 40 nautical miles and spent 18.5 hours at sea. I started and ended my channel crossing in the pitch dark; I witnessed the ending and beginning of two spectacularly clear nights. I saw stars pinned to the black velvet sky like diamonds on display. I had felt myself both bloom and wither under the sleepless eye of the full moon.