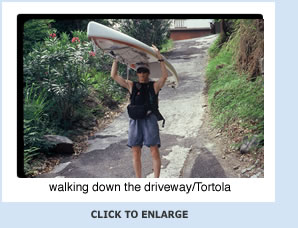 Puerto Rico is sixty miles west of Tortola, BVI. The wind in the Virgin Islands blows predominantly, and heavily, east. Paddleboarders on their way from Tortola to Puerto Rico will probably have the best downwind romp of their lives. Hardcore souls may opt to paddle the full sixty miles without stopping, but you will miss the unique people and scenery of the Virgin Islands. A paddling tour from Tortola to Puerto Rico visits three cultures: the British Virgin Islands, the US Virgin islands, and—though the they belong to the USVI—the Spanish Virgins that include Puerto Rico.
You can ship your board with Tropical Shipping from Miami to the BVI. Tropical Shipping has an outpost in Los Angeles that can truck your board to Miami. Mapcargo, a company that operates out of Redondo Beach, CA, ships from both coasts by land, air and sea to the Caribbean. If you fly your board make sure it will fit on the plane! I learned the hard way that paddleboards won't fit on some aircraft.

Though fun and scenic, paddling from Tortola to Puerto Rico is no gimme. You will paddle in crowded waters, strong currents and wind. You will cross two over twenty-mile channels: the 25-mile Virgin Passage between St. Thomas and Culebra and the 26 miles of open ocean that parallel the Cordillera, a necklace of islands strung between Culebra (part of Puerto Rico) and "mainland" Puerto Rico.
I suggest a chase boat in the Virgin Passage and for Culebra to Puerto Rico. Possible chase boats for the Virgin Passage can be found in boat-for-hire sections of St. Thomas tourist publications. Local fishermen on St. Thomas could perhaps provide a boat. For Culebra to PR, contact boat owners and marine businesses in Fajardo, PR, or the anchorage in Culebra. If you solo, bring plenty of water, food, waterproof charts, compass, GPS—and your passport. A bike flag attached to the rear of your board will make you visible to boat traffic.
Customs and Immigration will see you as a captain, and your board as a "ship underway". Clear out and in with Customs and Immigration EACH time you enter or leave a Caribbean country. On Tortola, clear out at the ferry dock on West End. On St. John, clear in at Cruz Bay; on St. Thomas, the ferry dock at Charlotte Amalie. Customs and Immigration (See my story "Desiree") can end your trip by refusing to allow you to continue on.
Here is my account of crossing from Tortola to Puerto Rico:
In mid-May, threatened by a thunderstorm and strong wind, I crouched, swathed in sun-protective Lycra clothing, dark goggles and Lawrence of Arabia headgear on the sand blasted beach at Little Apple Bay, Tortola. I loaded my dry bags with gear and stored them in a zippered mesh carryall bolted to the deck of my board. I poked my red bicycle flag onto the rear of my board. Shouting over the snapping of my little safety flag, the rumble of thunder and the frenzied rustle in palm trees of a twenty-two knot east wind (perfect for paddling west to Puerto Rico), I counseled my son and sister-in-law on my paddling route. My family had come to Tortola to support me. They hoped to follow me in ferries and whatever boat they could find to Puerto Rico
The wind pushed big dark clouds like heavy furniture along the flat gray floor of the sky. Big raindrops exploded against my face and the white fiberglass deck of my board. Eli, a dark-haired strapping 36-year old, helped me carry my laden board into the sea. My sister-in-law, Holly, a slim toned woman in her late sixties (She had recently overcome a leg-shattering car crash to again win big on the senior tennis circuit.) grinned at us from the beach. Nervous but determined to succeed, I saluted my family and my vertiginous desert island home, Tortola, and paddled west toward Puerto Rico. The wind hustled me past Smuggler's Cove, a, pearl-sanded haven on Tortola for snorkelers. I felt apprehensive and joyful about the weather, the dangers of my trip and the possible glory of being first to paddleboard from Tortola to Puerto Rico.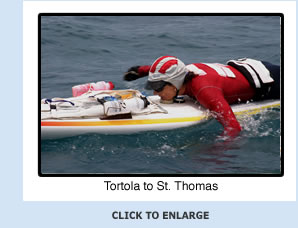 Whenever I paddle in the Caribbean, I try to hang out in the beauty and grandeur of it all. I look up at the stately palaces in the clouds. I ogle aquamarine water beneath me—so luminous it must hold the proverbial light at the end of the tunnel. I imagine myself reclining on every dark shadow under the palm trees. I hope never to provoke Caribbean ire: the violence of tropical storms, the avarice of drug runners, the desperation of refugees from Cuba and Haiti, the mindless power of speedboats, known as cigarette boats, captained by minds set to appreciate only velocity over water and the possibility of instant wealth. Some of these desperate critters hang out in the VI's most spectacular coves and beaches. I make it a point to never approach strange boats anchored in idyllic spots with the idea of discussing the weather or making friends.
I keep my eye also on the inter island ferries whose captains want to get where they're going quickly and are not known for their compassion: A group of snorkelers capsized their dinghy off Big Thatch, a small island west of Tortola. The swimmers waved desperately at a passing ferry in the hope of rescue. The ferry captain tooted his horn in salute and the passengers waved in greeting—as the ferry swept past on its way to St. Thomas. Maybe, I tell myself, the people on the ferry thought that the drowning snorkelers were having fun. But, after fifteen years in the Caribbean, I am aware of its dark side. Fortunately, the snorkelers were rescued by a fishing boat.
Crossing the turbid two-hundred-yard-wide channel (where the snorkelers almost drowned) between Tortola and Big Thatch, I fell off my board in steep standing waves and strong current caused by the meeting of wind and wave from the Drake Channel and the Atlantic Ocean. Swimming, before I could re-mount my board, I was overwhelmed by the wake of the "When" boat. This little ferry ambles several times a day from Tortola to the neighbor isle Jost Van Dyke. It is named "When" because it leaves Tortola "When" it wants to. The When boat exemplifies Caribbean philosophy.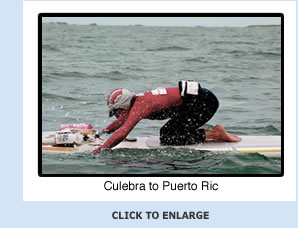 The remains of an ancient volcano, the steep island of Big Thatch is as covered with prickles as a porcupine: all kinds of cactus and thorn bush thrive there. The island is home to feral cattle, sharp-horned ferocious creatures that can challenge intruders. Along with the island's craggy steepness and opportunistic plants that leave you with their clingy seeds, the fierce cattle say that Big Thatch is theirs. Sharks love Big Thatch's west end that rises Titanic-like in a tall black final statement of the island's end point of land. As I ate and drank astride my board off Big Thatch's west end, I saw a medium-sized shark (species unknown) well up through the dark water beneath me. The animal passed several time under my board like a rodeo bull, then undulated off back to deeper water.
My next challenge was the Narrows, an eighth-of-a-mile-wide channel between Tortola and St. John, USVI. The Narrows are part of the Drake channel that parallels Tortola and a string of neighbor islands to the north. The Narrows dangerously concentrates diverse boat traffic—cargo vessels, container ships, sailboats, cigarette boats and ferries—that makes its way between the BVI and the USVI. Amazingly, the ferry that was bringing Eli and Holly to meet me on St. John passed me just as, panting and adrenalized, I reached the north coast of St. John on my paddleboard. Eli later told me that he had cautioned the ferry captain, "There she is! Don't hit my mom."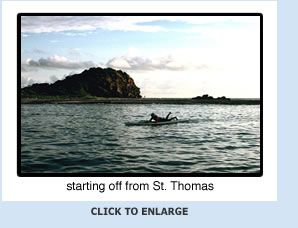 Relieved to escape the Narrows, I paddled in to a spacious bay on St. John's north coast. I appreciated the island's beauty. Mostly a national park, St. John—though generously discovered by the cruise ship set and hippie types, who (I love them for this!) think that the sixties must be preserved in their long hair, beads, and the peace sign—is a citadel of nature. Its pure beaches and tangled jungles, still raucous with birds, are iconic to tropics lovers. East of St. John's bustling commercial hub, Cruz Bay, are tranquil bays like Maho Bay and Cinnamon Bay. Both have campgrounds.
I spent the night with Holly and Eli in a tent in Maho Bay. We refueled in the campground's adequate, cat-infested restaurant and slept like stones until morning—when we resumed our roles as athlete and support team. I would paddle on to St. Thomas, where Bolongo Bay, an all inclusive resort, had agreed to put me up for a pro bono night. Eli and Holly planned to pursue me to St. Thomas in a ferry. The wind seemed stronger. As I set out from Maho Bay, I lost myself in the striations of the muscular sea. Purple-black with wind, the water galloped so hard that flecks of white foam appeared on its limbs like sweat on the flanks of a racehorse.
Passing the relatively calm entrance of Cruz Bay, St. John, I joined a herd of elderly (my age!) kayakers out with their guide on a tour of Cruz Bay. Soothed that I had at last joined my species—folks paddling around in the sea—I then set myself apart by informing my newfound tribe that I was on my way to Puerto Rico. "Do you know," I asked my audience that looked aghast with open mouths and bulging eyes to learn of my plans, "how to get through the St. James Island cut?"
As crucibles go, I saw that the St. James Island cut, off the west end of St. John and between St. Thomas and a small out island named St. James, might be the worst problem that I'd encounter enroute to Puerto Rico. In order to reach the west coast of St. Thomas, most boat traffic passes through the St James Island cut, a ravenous slot filled with conflicting waves, current and confused boats. The mere thought of threading the perilous eye of this needle on a vessel as small as a kayak had the Cruz Bay kayakers paddling away from me. They ignored me, as polite politically correct folks ignore a grisly car crash.
On my own, I wondered how to proceed through the St. James Island Cut. At the mouth of the cut I saw a large swaying buoy. I figured that boats—I counted three ferries, a cigarette boat, a cargo vessel laden with cars, and a small container ship—vying to be first through the cut, would not want to hit the buoy, and thus would avoid me. If I could hide behind the buoy, it would give me a safe vantage point from which to plot my next move. When I saw a window in the charging boat traffic, I closed my eyes and sprinted toward the buoy.
Feeling that it was log graciously offered to me to prevent my sure drowning, I clutched at the buoy. It and me became the point of divergence for oncoming boats. I saw that the best way to avoid the boats and current (it reminded me of class five rapids) would be to quickly attain, then hug the south coast of St. Thomas. I reached St. Thomas, which is about fifteen miles from Tortola, by paddling as fast as a speed boat and maximally risking my life. I began to poke along the west coast, which is civilized enough to require, by placing conspicuous red buoys, that boat traffic stay four hundred yards offshore. Bolongo Bay was still twelve miles away.
Bolongo Bay teemed with avid vacationers. I was buzzed by jet skis, avoided by windsurfers and sailboats, and hailed by snorkelers. Bolongo Bay could be negatively described as a stereotypical all-inclusive resort, but I felt warmed by the staff's friendly greeting and the enthusiasm of my son and sister-in-law. After an interlude of greasy food, air conditioning, TV, and a view of beach umbrellas that sheltered the large abdomens of the indolent, I was ready to tackle the Virgin Passage, then on to Culebra and Puerto Rio
I picked up my first chase boat outside Botany Bay on the extreme west tip of St. Thomas. On an island known for violent crime, racial tension, traffic congestion—and fondly called Little New York—Botany Bay, with its lack of hotels and its thriving marine ecosystem, is St. Thomas's respite from civilization. I was lucky to get a support boat for the Virgin Passage from a St. Thomas surf-related business. My boat captain, a powerfully built grinning islander, was eager to see me set off on my 25-mile traverse of the Virgin Passage. I started out from a small beach and paddled toward the low distant V of land that was Culebra.
With the east wind and the westbound current behind me, I moved along at a fast four knots. My family bolstered my strength by offering me water and food in a long handled fishnet. Icons of danger—a cruise ship and a container vessel--loomed like icebergs on the horizon but kept their distance. I felt safe and accomplished paddling in to Ensenada Honda, a deep cleft in the island of Culebra. Holly, Eli and I stayed in one of the colorful little inns that line the shore of Ensenada Honda. Culebra is a comfy little place with none of the hustle of its neighbor St. Thomas, or the impersonal size of Puerto Rico.
Culebrians are proud of Dewey, their picturesque laid-back village. They enjoy their national park that preserves nature by encouraging volunteers to uproot non-native plants and to fence off turtle egg-laying spots from trampling feet. Despite their distaste for non-green visitors, Culebrians make visitors feel like one of their own. In the evenings, a karaoke bar in Dewey eagerly exports its fun and songs. People on boats anchored in Ensenada Honda and Dewey's residents sing along with the karaoke singers from their boats and houses—until the island is one big party singing the same song.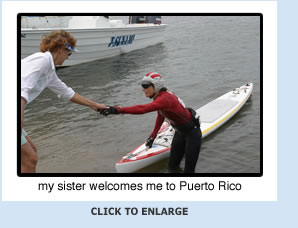 Paddling under the bridge that connects Ensenada Honda and the town of Dewey to the open ocean between Culebra and Puerto Rico, I felt sad to leave Culebra. On the ocean side of Dewey, I met my second chase boat, a sleek sailing ketch. A gray-bearded veteran of many ocean miles and his darkly tanned young girlfriend, both natives of Puerto Rico, captained it. My gear was loaded the night before, and Eli and Holly were already aboard. I had found the boat by talking around in marinas and chandleries on Tortola. A Tortolian business owner had friends in Puerto Rico, one of which was eager to sail from PR, meet me in Culebra and escort me on to Fajardo.

Culebra to PR was the most exciting part of my trip. Not only were the views of the Cordillera, the silver-sanded, uninhabited string of islets that link Culebra to PR, spectacular, but also the weather challenged me. Caribbean wind almost never blows west, but the big thunderstorms born in the vigorous thermals over the tall mountains on PR can reverse weather pattern. The first half of my paddle was done aided by easterly trade winds and mild seas. During my last thirteen miles, towering clouds let down gyrating waterspouts and hurled sharp spears of lightning. The west wind tore off the tops of waves and flung them in my face. Seeing me fatigued and in danger, Holly and Eli encouraged me to come aboard.
I did not want to disappoint my boat captain. He was a hardcore mariner and a fiercely competitive racing sailor. Under his exacting gaze, I soldiered on in worsening weather toward, the dark rain shrouded bulk of Puerto Rico. When I reached Isla Palomino, a resplendent tiny island four miles east of PR and popular with weekend boaters, I knew that I'd reach the mainland.
Arriving in Las Croabas, a small cove near Fajardo, PR's main marina, I was met by the press from La Regata, PR's nautical newspaper and friends of my boat captain. Seeing grinning faces—my captain, his pretty girlfriend and my family—above the blue and red, single-star flag of Puerto Rico that flew from the stern of my chase boat, I felt totally drained but proud—and already in love with the tall, proud green island called Puerto Rico.