The Grenadines are strung like dewdrops on a strand of silk between the volcanic frontier island of St. Vincent and the tourist Mecca of Grenada in the southeast Caribbean. Like most Caribbean islands, the Grenadines both divide and unite the Atlantic Ocean and the Caribbean Sea. This cozying up of oceans is seldom peaceful: Inter island channels become rivers at change of tide when water pours between the two oceans at speeds of up to four knots. In the summer, the Grenadines entertain powerful tropical storms and hurricanes from both oceans. In winter, gales from the North Atlantic whip the Caribbean to a frothy greenish-white in the Grenadines.
Touring the Grenadines on a paddleboard should not be taken lightly. You must prepare mentally and physically to function optimally in foreign cultures. You should be comfortable with paddling long distances in the open sea. You will paddle with your board fully loaded with gear in four to six foot swells and fifteen to twenty knot winds. Good charts, GPS, VHF radio and cell phone are essential. Carry plenty of food and water. Protect yourself from the sun. The ocean is warm but take a neoprene vest.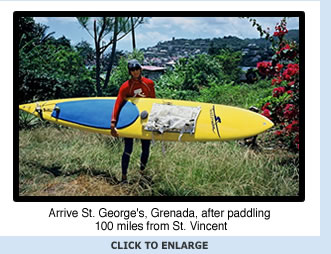 It is a trial to ship your paddleboard to the Grenadines. The Bernuth Agency in St. Vincent sometimes ships between St. Vincent and Miami. Check with Customs and Immigration on St. Vincent to find a current inter island shipper. Be sure your board is well padded in its crate.
Plan to paddle in the Grenadines in the fall or the spring. The months of September and October come before the strong northeast winds of winter dominate the Grenadines. April and May can offer calm weather before summer's powerful southeast trade winds take over. Weather patterns can be fickle. Northeast winds can blow in summer; southeast winds happen in winter.
If you decide to paddle south from St. Vincent to Grenada, as I did, start paddling from Blue Lagoon on the south tip of St. Vincent. The nine-mile Bequia channel is tough. Current flows east or west at two to three knots and can move against the wind. Waves will knock you off your paddleboard. Attach yourself to your board with a leash.
When you reach Admiralty Bay on Bequia's west coast, you can stay a day and explore the island from the sanctuary of a cheap guesthouse. Bequia is a melting pot. You will see black faces with green eyes, pale skin and freckles above the full lips of Africa. Boat building thrives on Bequia. Everywhere are brightly painted handmade wooden sailing dinghies with names like Brave Heart or Hold 'em Down: odes to Bequia's love of ocean racing. Bequia reveres confrontation with the sea. However odd you are, if you contain salt water, you will be loved.


> Your next destination, nine miles east of Bequia, is Mustique: a celebrity hot spot. The sea between Bequia and Mustique is not as rough as the Bequia channel, but watch your drift north or south. Aim for the notch in Mustique's hilltop. As you stroke into Brittania Bay, Mustique's harbor, you may see Mick Jagger enroute to his getaway, or Prince Charles getting ready for a little R & R. Mustique has attitude and nowhere cheap to stay. But island fishermen are basic and honest. Fishermen, who live in fishing camps on most Grenadines islands, are good meteorologists. Consult them about local conditions before paddling.
The fifteen-mile Canouan channel is brutal. Do not attempt it in winds over fifteen knots. Depending on wind and tide, current flows north or south at two to three knots. Ask fishermen when the southbound current flows. You cannot paddle from Mustique to Canouan on a northbound current. Aim for a small, triangular island visible from the south tip of Mustique called Petit Canouan; it is only four miles from Canouan. In the lee of Petit Canouan, you might find, as I did, an old fisherman in his red-and-green boat. He will be angry with you for ruining his fishing.
Be careful of gusty winds and steep waves off the north end of Canouan. Head for the middle of Canouan's west coast, where you will find a settlement. Canouan is an uneasy place. Europeans have built resort hotels above Canouan's main attraction, a limpid, turquoise lagoon whose boundary reef fends off the unruly open sea. Rich tourists stay in the hotels and snorkel in the lagoon, but they don't spend money on local business. In comparison to the hotel scene, Canouanians feel poor and insignificant. Visitors to Canouan, like you on your paddleboard, are lumped in with the hotel crowd and disliked. You can stay on Canouan more cheaply than in a resort hotel but don't expect to feel welcome.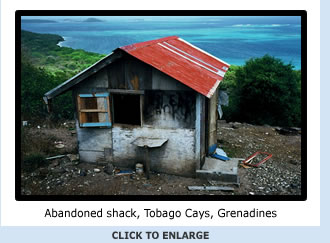 Next stop south is Mayreau, which is paradise. Dreadlocked locals grin at you and offer cheap lodging. Beer flows day and night on Mayreau and the tasty food is cheap. The little island, whose center rises in a comforting, blond and grassy mound toward a blue vault of sky, offers spectacular views of where you paddled from: Canouan, Mustique, Bequia. You can also inspect your next nearby paddling goals: Union island, Petit St. Vincent, Petit Martinique, Carriacou, and the Tabago Cays.
Leaving new friends on Mayreau is hard, but the Tobago Cays welcome you and invite you to stay forever. Vendors from Union Island, just two miles away, buzz over in their boats and sell food and beer to castaways who, like you, can't bear to leave the beauty of the Tobago Cays: A dozen gleaming islets bask in clear, shallow water guarded from the deep sea by an outer reef. If the Grenadines are the Caribbean's crown jewels, the waters of the Tobago Cays are its emeralds and sapphires. Though powder soft, the beaches are diamonds. Live forever on a Tobago Cay.
Eventually, you go on to Union Island, just two miles southwest of the Tobago Cays. Union is the Grendines' bad boy. Tilted at odd angles, Union's sharp little mountains lean toward one another as if sharing evil gossip. The shallow reef in front of Union's town has a shady history: Locals wait for yachts to run aground on the reef, then rush out in motor boats and offer to tow the yacht free. The good Samaritans instantly turn into pirates and plunder the yacht. Your paddleboard is not a yacht, but look out.
Union Island in on the border between two Caribbean countries, St. Vincent and the Grenadines and Grenada. If you plan to paddle Grenada waters, you must legally clear your "vessel" out of St Vincent and the Grenadines at the Customs and Immigration Office on Union Island. Failure to do this may result in a stiff fine or confiscation of your paddleboard. I kid you not.
Visit Petit St. Vincent, west of Union and the last Grenadine in the island chain. Owned by an entrepreneur who saw the island's potential in tourist revenue, PSV is a small, exclusive resort. The beaches are pure, coral reefs unspoiled. The contrast between turquoise and emerald shallows and the cobalt and cream deep sea (so like the interplay of soft and grand chords in a skilled orchestra) touches the heart. But PSV is a prison for the rich. No matter how nice the view from a cell window, a prison is a prison, and a prisoner a prisoner.
Petite Martiniqu is the antidote to PSV and two miles away. Petite Martinique belongs to Grenada. Reggae music seeps even from its grains of sand. Dilapidated buildings welcome you like comfortable old armchairs. Dark, half naked children crowd the beach and ask you for paddleboard rides. You can stay cheaply anywhere. As good as PM's aloha spirit, is the view from its mango infested little mountain: You will see the end of your journey: The sloping flank of Grenada looms ghostly gray in the distance.
You must clear your "vessel" in to Grenada when you reach Carriacou, PM's southern neighbor. Carriacou belongs to Grenada, where Immigration is strict. Carriacou is an embattled island. Once a stronghold for the ingenuous and welcoming heart of those who subsist on nature's bounty. Carriacou reluctantly modernizes. Locals still fish, bake bread and eat the animals they care for, but the tourist dollar says, "There's something better." Locals yearn to move forward, but the old life still appeals. Carriacou looks to its roots yet already uproots into its future. You will be bruised by the island's beauty and its struggle.
Grenada… your tour de force. The twenty-mile paddle from Carriacou to Grenada is demanding. If you struggled with wind and current in other channels, you will balance on the tightrope of feasibility as you negotiate the channel between Carriacou and Grenada. The strong, predominantly east wind and an east bound current invite you to fall forever into the mighty fetch of the Caribbean that stretches west to Central America. Kick-'em-Jenny, an underwater volcano lurks in the waters between Carriacou and Grenada. If you don't get boiled in Kick 'em's superheated water, aim for Sauteurs, Grenada's north most town. The flash of sunlight from Sauteurs's windows will beckon you on.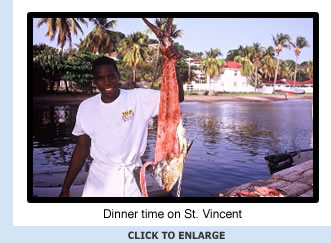 When you reach Sauteurs, you may feel that the pain of your journey has been too much. Remember the people who gave Sauteurs its name (Sauteurs means "jumpers" in French.) Threatened with banishment from their loved native island, hundreds of Carib Indians jumped to their death from a high cliff near Sauteurs. Whatever burden you bear will probably be less than that of the jumpers.
If you paddle, like me, the west coast of Grenada to its capital, St. Georges, you will find Grenadians friendly and aware. If you talk politics, you risk embarassment. Grenadians know more about your country than you. They know everything about their island and as much as there is to know about the rest of the world. Grenadians know instantly when an unusual stranger reaches their island. If you paddle in to a town to eat or spend the night, they will say, "I heard all about you." Grenadians offer warmth and hospitality without restriction to all visitors. By the time you leave Grenada, it will know you better than you know yourself.